Access Control Systems – Houston based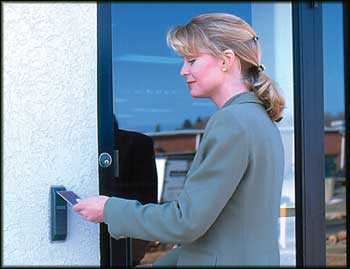 We proudly install and service the Linear eMerge and Honeywell line of access control systems.
Access control systems, also known as keyless entry systems, help you control and track who is entering your property and when they're allowed access. Our systems feature access cards, keypads or fingerprint readers and other biometrics. Our flagship access panels are the Linear eMerge and the NetAxs System by Honeywell. We have been installing access control systems in Houston for over twenty years!
Note: We also support Geovision access systems.
When assigning your employees a card or code, you simply assign them to a pre-set up access group which determines which doors they can go into, and what times and days they are allowed access. If a card is lost, you can simply delete it from the system all through a local PC.
So whether you're looking to secure one door in your small business, or an entire building, we have a system that will fit your needs.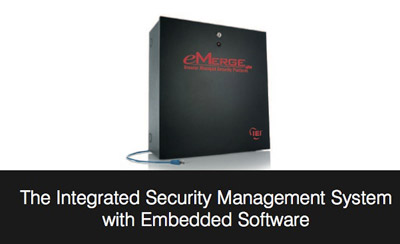 eMerge – the all-in-one browser-managed system that gives both IT and Security Managers complete confidence and unparalleled ease. Everything you need to install and manage the system is embedded within the eMerge panel. So you'll have no server software, no client software, no gateway and no connectivity issues burdening your staff or system. What will you have? Browser-based access to your facilities from anywhere in the world, and an embedded security management application that's so powerful and so easy to use, that once you try it you'll accept nothing less.
Contact us for more details on this product or to schedule an installation.
Features
A user interface is securely accessed with a standard web browser under password control.
A proven Linux operating system is embedded in the Intel processor ensures a stable platform.
Integrated management of access control, video, alarm and temperature monitoring from anywhere the Internet is available.
Communications over existing networks or the Internet using easy to obtain, inexpensive equipment commonly found in most offices.
Authenticated and encrypted information flow to protect system operation even over public network segments.
Pre- and post-image video capture at designated access control and alarm monitoring points.
Alerts delivered via email, and even cell phones.
Can customize a security panel with the components you want and where you need them.
Up to 7 application modules can be mounted within a Node that include; Access Control Modules with Wiegand protocol card reader inputs, Supervised Input Modules, Relay Output Modules and Temperature Monitoring Modules.
Allow eMerge to communicate across a LAN, WAN or the web.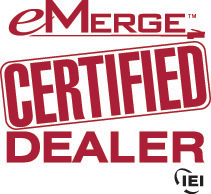 Permits for access control.
*Note: for life safety reasons, many municipalities require that permits and inspections be done on certain types of electric locks installed in businesses. We can obtain your permits for you, or better yet, help you design a system that doesn't require them. For example, the City of Houston requires permits on maglocks, but not strikes. Harris County requires permits on both strikes and maglocks. Engineering drawings are required, as well as signage, and in some cases, two means of egress, not to mention interfacing with the fire alarm system. Call us today, and we can help determine the requirements for your building.